Why Choose L-Card over Blinq and Mobilo?
Powerful digital business card design suite with unlimited customizations.
Upload card designs from Canva and other third-party design platforms.
Unlimited card creation, sharing, and storage. 
Award-winning paper business card scanner.
Custom QR code designer.
Lead generator.
Link to app stores Google Play, Amazon, App Store, and more.
Digital card analytics to track card activities in real time.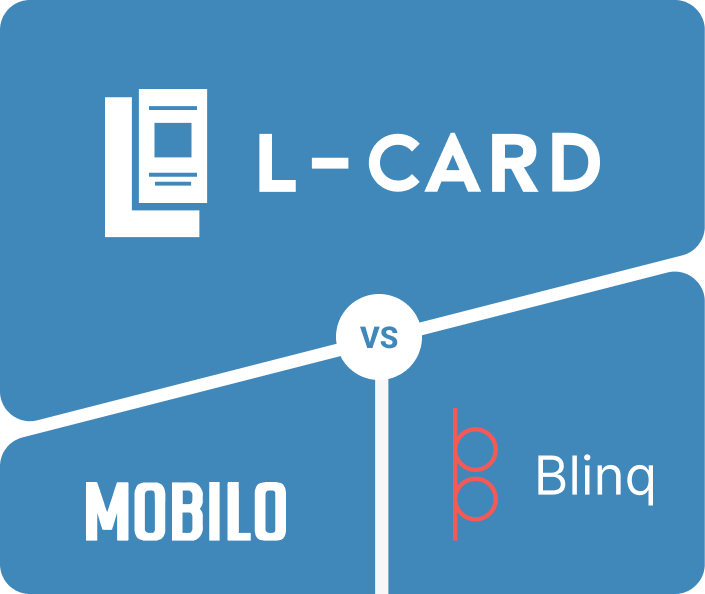 Both Mobilo and Blinq are part traditional business card and part digital card. By contrast, L-Card lives on your phone, which means no more physical cards. And when you compare features and capabilities, L-Card is light-years ahead of Blinq and Mobilo. 
Card sharing via QR code, email, text, WhatsApp, and NFC tag
CRM and software integrations
Employee roles and permissions
Enterprise-level security
Unlimited cards
Only in paid Business plan
Business cards for virtual backgrounds (e.g. Zoom)
Unlimited, instant business card scanner in 27 languages
Unlimited videos from YouTube, Vimeo, TikTok, etc.
US-based email, phone & chat support
Unlimited file links (Docs, PDFs, etc.)
Unlimited business card design
Completely customizable card designs
Canva & other 3rd party designer card templates
Existing paper card design upload
Add multiple images and logos to each card
"About" section for cards
9 image and video gallery
Personalized call-to-action (CTA)
Customer testimonial upload
Employee card listings for tablet for easy scanning and sharing at events
Link to app stores Google Play, Amazon, App Store, and more
Payment links for PayPal, Visa, Mastercard, Stripe, and more
Top Reasons to Choose L-Card
The most advanced design suite on the market lets you create custom business cards, download designs from Canva (and other 3rd party software), and use our premade but customizable templates.

Create, share, and store unlimited cards.
Award-winning optical character recognition (OCR) paper card scanning in 27 languages.

Powerful analytics dashboard lets you instantly see and measure who opens, shares, views, and scans your cards. Also includes data on videos watched, websites visited, and more.

Highly secure with 256-bit TLS encryption and SSL security technology linking the servers and our users.
Enterprise-level plan for organizations with centrally-managed dashboard makes digital card deployment fast, easy, and unified.
Testimonials upload, personalized CTAs, and image and video gallery.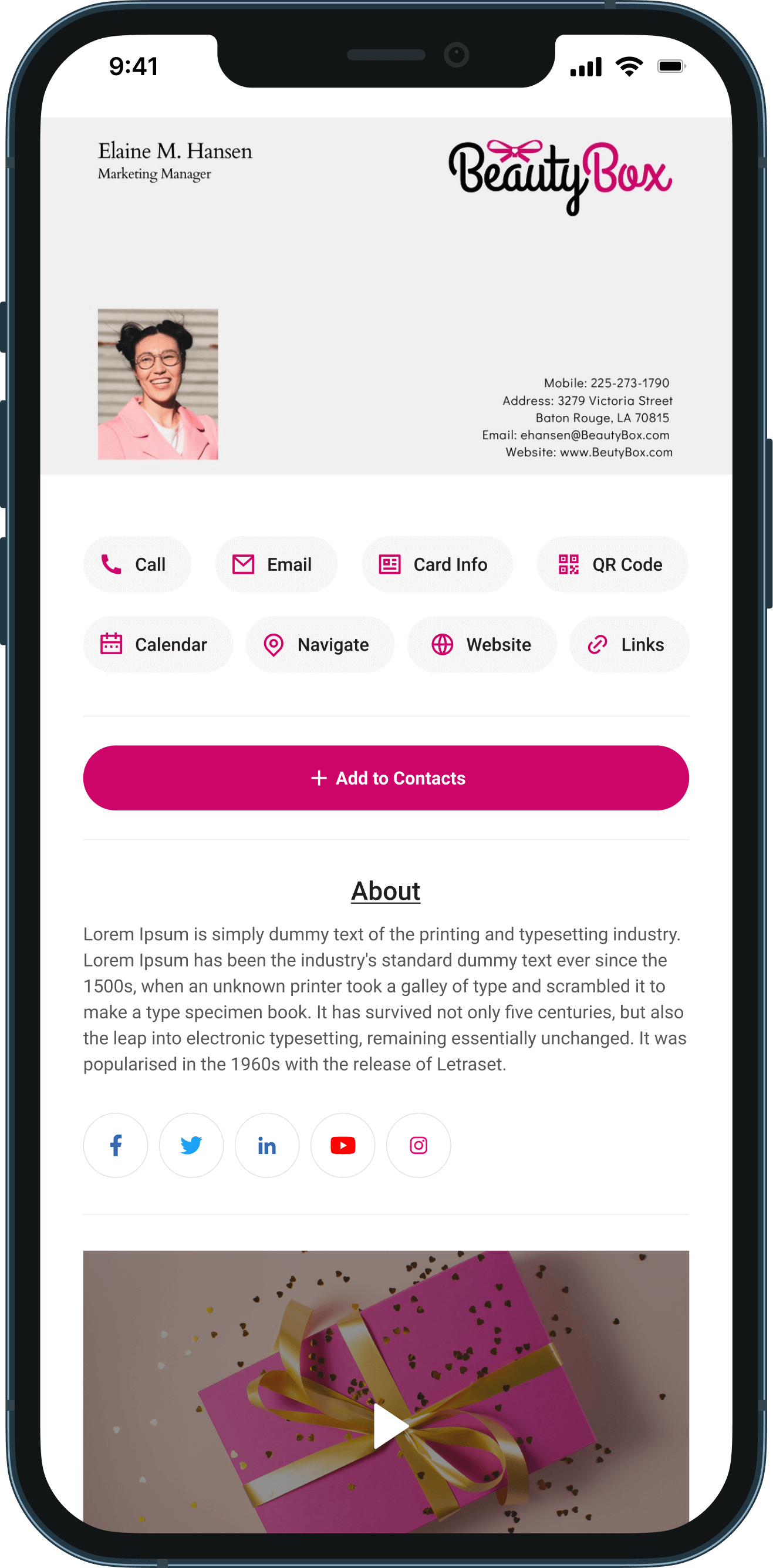 Free
plan provides unlimited custom design cards, shares, storage, and more.
No.
Free plan.
Pro
plan is $6/month billed annually and offers unlimited access to all advanced features. Unlimited paper card scanning.
Professional is $6/month billed annually.
  Premium plan is $2.99/month billed annually. Limited to 5 digital cards and very basic features.
Enterprise
pricing is customized based on the number of users.
Enterprise is volume-based pricing.
Business plan is $9/month for 3 users.
Save up to 40% annually per employee
with L-Card Enterprise
See L-Card Pro in Action!
Click or scan the QR Code to check out our corporate business card.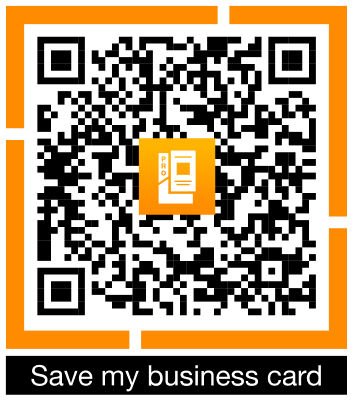 Ready to Test Drive L-Card?